'Love Happens for a Reason in This World. So Does Hatred': Affective Spaces as an Analytical Framework for the Study of Contemporary China
Shih-Diing Liu, Professor of Communication, University of Macau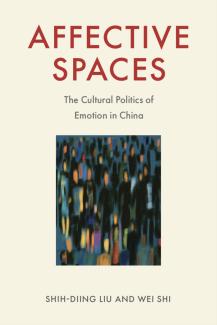 In this presentation, I will elucidate how and why emotions and affect open up new avenues for understanding contemporary Chinese society, politics, and media. This discussion focuses on the analytical foundation for our upcoming book, Affective Spaces: The Cultural Politics of Emotion in China. I will contextualize the concept of affective space, explaining how art, the bodies of workers, film, and social media help us grasp its materiality and performativity. This presentation will underscore why the notion of affective space holds promise for innovative research beyond China, enabling a nuanced exploration of topics such as the desire for nationalism, regional and international conflicts, and state-society relations.
Shih-Diing Liu is Professor of Communication at the University of Macau. His co-authored book with Wei Shi, titled Affective Spaces: The Cultural Politics of Emotion in China, is scheduled for publication by Edinburgh University Press in February 2024. This project received financial support from the Institute of Advanced Studies at the University of Macau. His research has appeared in Positions: Asia Critique, Social Movement Studies, New Media and Society, and New Left Review. He is the author of The Politics of People: Protest Cultures in China (State University of New York Press, 2019).
Open to all, informal lunch served. This event is held onsite with a Zoom session. Please register in advance here:
https://upenn.zoom.us/meeting/register/tJMtc-iuqz0tEtyU-fqiO5e17TMPAxJ3QMiJ
After registering, you will receive a confirmation email containing information about joining the meeting.