National Committee on US-China Relations CHINA Town Hall 2023: Onsite Panel & National Live Webcast Watch Party
Nicholas Burns, U.S. Ambassador to China (webinar) & Naima Green-Riley, Junyi Lv, & Weirong Guo (onsite at Penn)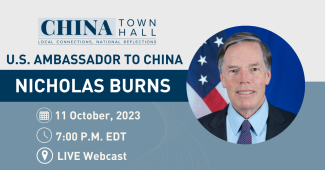 Current U.S. Ambassador to China, Nicholas Burns will be the featured speaker for CHINA Town Hall 2023, a national conversation on how the U.S.-China relationship affects our communities. From trade, tech competition, and fentanyl to climate cooperation, national security, and anti-Asian racism, the future of both countries will be determined by their relations with one another and the global community. The nationwide virtual conversation, including live Q&A, will take place on Wednesday, October 11, at 7pm ET. As America's top diplomat in China and one of the U.S.' most articulate foreign policy experts, Ambassador Burns is uniquely suited to unpack the challenges and opportunities for both countries as they confront the most critical issues of the 21st century.
Before the webinar, join us for a panel discussion at 6pm with Naima Green-Riley, Junyi Lv, and Weirong Guo on public perceptions and public diplomacy.
Naima Green-Riley is an Assistant Professor of Politics and International Affairs at Princeton University. Junyi Lv is a postdoc fellow at Penn Center for the Study of Contemporary China. Weirong Guo is a Panda Express Postdoctoral Fellow in the Asian American Studies program at Penn.
Informal dinner (pizza) will be provided.