Contemporary Chinese Queer Performance
Hongwei Bao, Associate Professor of Media Studies, University of Nottingham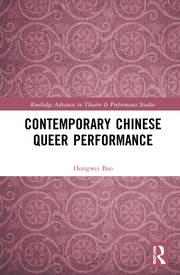 In this talk, Hongwei Bao will discuss his new book Contemporary Chinese Queer Performance (Routledge, 2022). In this pioneering study of queer performance in China and the Chinese diaspora from 2000 onward, Bao takes readers on an exciting journey to see and experience an eclectic range of spellbound performance: from urban black box theatre to pop-up performance art, from underground photography to choral music, and from feminist activism to queer digital art. Performance serves as a crucial way for LGBTQ people to imagine identity, community and politics. Contemporary Chinese Queer Performance brings together analysis of artworks and interview with cultural producers. It showcases the creativity, imagination and resilience of LGBTQ people in creating queer worlds; it also highlights the pivotal role of performance in global queer culture and activism. Situated in a contemporary, transnational, transcultural and transmedia context, the book demonstrates the productivity of thinking about queer performance out of the Western canon and along with media, technology, culture and politics.
Dr. Hongwei Bao is Associate Professor in Media Studies at the University of Nottingham, UK, where he directs the Centre for Contemporary East Asian Cultural Studies. Bao holds a PhD in Gender and Cultural Studies from the University of Sydney, Australia. He is the author of four research monographs on queer Chinese history and culture: Queer Comrades, Queer China, Queer Media in China and Contemporary Chinese Queer Performance. Bao co-edits Routledge Handbook for Chinese Gender and Sexuality, Bloomsbury book series Queering China: Transnational Genders and Sexualities, and de Gruyter book series Oyster: Feminist and Queer Approaches to Arts, Cultures and Genders. His co-edited book Contemporary Queer Chinese Art is forthcoming with Bloomsbury Academic in July 2023.
Please register for Zoom access: 
https://upenn.zoom.us/meeting/register/tJYoceyurj0uGNPei0ieV3c1HerkHOGsGaaj
After registering, you will receive a confirmation email containing information about joining the meeting.