Daring to Struggle: China's Global Ambitions Under Xi Jinping
Bates Gill, Professor of Asia-Pacific Security St​udies, Macquarie University; 
Executive Director, Center for China Analysis, Asia Society Policy Institute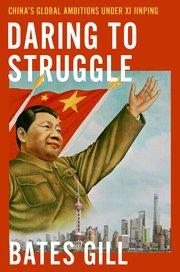 Professor Bates Gill discusses his new book Daring to Struggle: China's Global Ambitions Under Xi Jinping(Oxford University Press, June 2022). His book examines the fundamental motivations driving China's more dynamic, assertive and risk-taking approach to the world under Xi Jinping. 
Daring to Struggle focuses on six increasingly important interests for today's China -- legitimacy, sovereignty, wealth, power, leadership and ideas -- and details how the determined pursuit of them at home and abroad profoundly shapes its foreign relationships, contributing to a more contested strategic environment in the Indo-Pacific and beyond.
 
Dr. Bates Gill has a 30-year career as a scholar, policy advisor and author, focusing on Asia-Pacific politics, foreign policy and security, with a particular focus on China and U.S.-China relations. He has held leadership, research and academic positions with some of the world's leading institutions and universities, including the Brookings Institution, the Center for Strategic and International Studies, the Stockholm International Peace Research Institute, Johns Hopkins University, the University of Sydney, and the Australian National University. He has published eight books and over 150 other publications, including most recently China Matters: Getting it Right for Australia (Black Inc/LaTrobe University Press, 2017)(with Linda Jakobson). His current research projects focus on China's military modernization and its impact on Indo-Pacific security dynamics and on China's more proactive approach to global norms of conflict prevention.
* Open to all, lunch provided.
This event is held onsite with a simultaneous Zoom session, please register in advance for Zoom access: https://upenn.zoom.us/meeting/register/tJEudeyupz8iG9yYucEvs6jZTX2gAGzDPbzg
After registering, you will receive a confirmation email containing information about joining the meeting.