When Autocrats Clean House: Xi Jinping's Anti-Corruption Campaign and Its Consequences
Chris Carothers,  CSCC Postdoctoral Fellow, University of Pennsylvania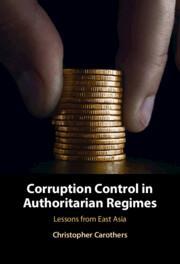 Corruption is rampant in many authoritarian regimes, leading to the widespread perception that autocrats have little incentive or ability to curb government wrongdoing. Yet meaningful anti-corruption efforts by nondemocratic governments are more common and more often successful than is widely assumed. In this talk, Carothers draws on extensive documentary research to argue that Xi Jinping's sweeping anti-corruption campaign in China, despite its limitations, has been effective at curbing bribery, embezzlement, and other illicit practices since 2012. Moreover, although corruption control is often thought to rely on democratic or quasi-democratic institutions constraining power, Xi's campaign has succeeded through a top-down, authoritarian approach. The outcomes of this signature Xi policy, Carothers explains, hold broader implications for our thinking about China's future direction. This talk is based on Carothers' book Corruption Control in Authoritarian Regimes: Lessons from East Asia, which is forthcoming from Cambridge University Press in 2022.
Christopher Carothers is a political scientist conducting research on authoritarian politics with a regional focus on China and greater East Asia. He is the author of Corruption Control in Authoritarian Regimes: Lessons from East Asia (Cambridge University Press, 2022) and his research has also been published in Perspectives on Politics, the Journal of Democracy, the Journal of East Asian Studies, the Journal of Contemporary China, Politics and Society, Foreign Affairs, Foreign Policy, and other leading publications. Dr. Carothers received his PhD in Government from Harvard University in 2019 and is currently a postdoctoral fellow at the University of Pennsylvania's Center for the Study of Contemporary China.
This event will be held on-site in the CSCC conference room, but with a Zoom option.
To attend in person, please use this link to RSVP for this event: https://www.eventbrite.com/e/when-autocrats-clean-house-xi-jinpings-anti-corruption-campaign-tickets-321801144887 You must be a Penn Card holder. Please indicate in the RSVP link that you plan to attend in person. Under the university's current COVID-19 protocols, we must limit on-site attendance at our events to Penn card holders and, to comply with contact-tracing requirements, we must have a record of who attends our in-person events. Therefore, we are asking that you RSVP is you plan to attend in person. If you do not RSVP and still wish to attend, you are still welcome to show up, but will need to sign in on arrival. Although social distancing is not required under current university rules, we will be limiting the number of people in our conference room to somewhat less than our past highest turnout events.
To participate by Zoom, please register to receive a Zoom link: 
https://upenn.zoom.us/meeting/register/tJIpcOigqTguGteybfJoE6PBD1SXAWZrCUUk