Constitutionalism in Context: The Extreme Cases of China, Hong Kong, and Taiwan
David Law, E. James Kelly, Jr., Class of 1965 Research Professor of Law, Professor of Politics, University of Virginia; Albert Hung-yee Chen, Cheng Chan Lan Yue Professor and Chair of Constitutional Law, University of Hong Kong; Cora Chan, Associate Professor of Law, University of Hong Kong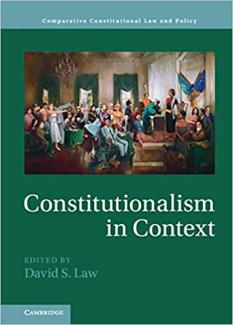 China, Hong Kong, and Taiwan are often overlooked in the field of comparative constitutional law, but as the editor and authors behind Constitutionalism in Context show, they belong at the cutting edge of the field because they test the limits of familiar concepts. First, Albert Chen uses the case of China to introduce and problematize two core concepts that define the field itself —namely, "constitution" and "constitutionalism." China defies traditional understandings of both concepts: it effectively has two "constitutions"—one for the state and one for the ruling party—and its efforts to articulate a coherent and normatively appealing "constitutionalism with Chinese characteristics" raise the question of whether and how the field will expand and adapt to real-world diversity and the growing use of constitutional law by illiberal, nondemocratic regimes. Next, as Cora Chan shows, constitutional arrangements that provide for a degree of autonomy at the subnational level are nothing new, but the constitutional rubric of "One Country, Two Systems" under which Hong Kong rejoined China takes the idea to new extremes. Can two ideologically opposed and wildly imbalanced constitutional systems coexist indefinitely within the same country, and if so, how? Third, David Law shows how Taiwan has raised the bar when it comes to the expansion of judicial power. He tackles the question of how it was possible for Taiwan's Constitutional Court to transform itself in the space of a few short years from a rubber stamp for authoritarian rule into one of the most assertive and powerful constitutional courts in the world — one that not only strikes down constitutional amendments, but even pushes through constitutional amendments of its own making.
This event will be held on-site in the CSCC conference room, but with a Zoom option.
To attend in person, please use this link to RSVP for this event: https://www.eventbrite.com/e/constitutionalism-in-context-tickets-308977358597
You must be a Penn Card holder. Please indicate in the RSVP link that you plan to attend in person. Under the university's current COVID-19 protocols, we must limit on-site attendance at our events to Penn card holders and, to comply with contact-tracing requirements, we must have a record of who attends our in-person events. Therefore, we are asking that you RSVP is you plan to attend in person. If you do not RSVP and still wish to attend, you are still welcome to show up, but will need to sign in on arrival. Although social distancing is not required under current university rules, we will be limiting the number of people in our conference room to somewhat less than our past highest turnout events.
To participate by Zoom, please register to receive a Zoom link:
https://upenn.zoom.us/meeting/register/tJUudeuopjsuEtEt6mZKJLhFX_mO0pvi_3m9