Beneath the China Boom: Labor, Citizenship, and the Making of a Rural Land Market
Julia Chuang, Assistant Professor of Sociology, University of Maryland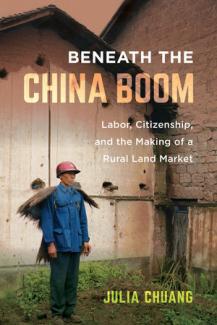 Professor Chuang will discuss her recent book, Beneath the China Boom: Labor, Citizenship, and the Making of a Rural Land Market. For nearly four decades, China's manufacturing boom has been powered by the labor of 287 million rural migrant workers, who travel seasonally between villages where they farm for subsistence and cities where they work. Yet recently local governments have moved away from manufacturing and toward urban expansion and construction as a development strategy. As a result, at least 88 million rural people to date have lost rights to village land. In Beneath the China Boom, Julia Chuang follows the trajectories of rural workers, who were once supported by a village welfare state and are now landless. This book provides a view of the undertow of China's economic success, and the periodic crises—a rural fiscal crisis, a runaway urbanization—that it first created and now must resolve.
This event will be held on-site in the CSCC conference room, but with a Zoom option.
To attend in person:
Please use this link to RSVP for this event: https://www.eventbrite.com/e/beneath-the-china-boomlabor-citizenship-and-the-rural-land-market-tickets-205245142747
You must be a Penn Card holder. Please indicate in the RSVP link that you plan to attend in person. Under the university's current COVID-19 protocols, we must limit on-site attendance at our events to Penn card holders and, to comply with contact-tracing requirements, we must have a record of who attends our in-person events. Therefore, we are asking that you RSVP is you plan to attend in person. If you do not RSVP and still wish to attend, you are still welcome to show up, but will need to sign in on arrival. Although social distancing is not required under current university rules, we will be limiting the number of people in our conference room to somewhat less than our past highest turnout events.
To participate by Zoom:
We understand that some of you will be unable or uncomfortable attending in person, but wish to participate. We will send you a Zoom link if you register:  https://upenn.zoom.us/meeting/register/tJApde6ppz0jG9HVtdBhb75JxixgB6IYrUAO