The World Today presents: Civil Liberties in China: The Uyghur Crisis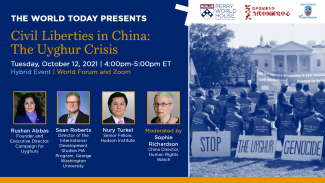 Uyghurs, a Muslim ethnic minority in China's Xinjiang region, are facing increasingly severe human rights abuses by President Xi Jinping's government. They are subjected to intense surveillance, arbitrary imprisonment, and forced labor by Chinese authorities. While global awareness of their persecution has grown in recent years, the situation has not improved. Perry World House, the Center for the Study of Contemporary China, and Penn Students for Uyghur Freedom are hosting a hybrid event to look at this critical issue. Our panel will explore the origins of the oppression of the Uyghurs; how the U.S. and E.U.'s renewed commitment to hold China accountable for its human rights violations may impact the struggle for Uyghurs' equal rights; and how China's treatment of the Uyghurs may impact is geopolitical ambitions.
Please note that this is a hybrid event, with only current members of the Penn community (students, faculty, and staff) able to attend in-person. All other attendees will take part virtually, please register here to receive Zoom link: https://upenn.ungerboeck.com/prod/emc00/EventSearch.htm?mid=5&EvtID=5825
Speakers
Rushan Abbas is the founder and executive director of Campaign for Uyghurs. She has been an activist since her days at university in East Turkistan, where she was a co-leader of the pro-democracy protests. In 2017, she established the Campaign for Uyghurs to advocate for the human rights and democratic freedoms of Uyghurs and other Turkic peoples oppressed by the Chinese regime. In 2018, her own sister was abducted by the Chinese regime and illegally sentenced to prison in retaliation for Ms. Abbas's activism. Today, Ms. Abbas continues to advocate for her release and the freedom of millions of other Uyghurs. She frequently briefs and advises on policy and legislative response, including support for the Uyghur Forced Labor Prevention Act, last year's Uyghur Human Rights Policy Act, and greater transparency for the Sister Cities program with links to China. She works frequently with the State Department to engage the international civic society, and meets with international government leaders. Ms. Abbas resides in Virginia.
Sean Roberts is the Director of the International Development Studies MA program at George Washington University's Elliott School of International Affairs. He trained as an anthropologist with both a M.A. in Visual Anthropology and a Ph.D. in Cultural Anthropology from the University of Southern California. His regional expertise is in Central Asia, and he has done extensive research on the Uyghur people in the People's Republic of China's Xinjiang Uyghur Autonomous Region as well as in Central Asia and Turkey. His most recent book is titled The War on the Uyghurs: China's Internal Campaign Against a Muslim Minority (Princeton Univ. Press, 2020).
Nury Turkel is a senior fellow at Hudson Institute. He specializes in national security, foreign policy, digital authoritarianism, and issues of forced labor and supply chain risk. Turkel's expertise also includes global justice enforcement, human rights and religious freedom in China, and the prevention of atrocities including genocide. He is a Commissioner to the U.S. Commission on International Religious Freedom. In September 2020, Turkel was named one of TIME Magazine's 100 Most Influential People in the World; and in May 2021, he was named on Fortune's List of the World's 50 Greatest Leaders. Mr. Turkel holds a M.A. in International Relations and a J.D. from the American University in Washington, DC.
Moderator
Sophie Richardson serves as the China Director at Human Rights Watch. She has overseen the organization's research and advocacy on China since 2006, and has published extensively on human rights and political reform in the country and across Southeast Asia. She has testified to the Canadian Parliament, European Parliament, and the United States Senate and House of Representatives. Dr. Richardson is the author of China, Cambodia, and the Five Principles of Peaceful Coexistence (Columbia University Press, 2009), an in-depth examination of China's foreign policy since 1954's Geneva Conference, including rare interviews with Chinese policy makers. She speaks Mandarin and received her doctorate from the University of Virginia and her B.A. from Oberlin College.