Higher Education and U.S.-China Relations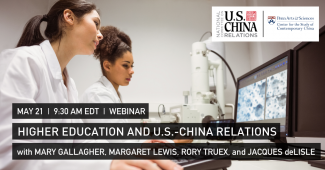 (Click here to register for the webinar)
The downturn in U.S.-China relations has strained once robust educational and research ties. China has restricted opportunities for contact between American and Chinese scholars and students, while in the United States, concerns about national security, intellectual property loss, Chinese competitiveness, and "pro-China" views on U.S. campuses have triggered a variety of responses including visa denials, re-evaluation of faculty ties to Chinese institutions, and federal prosecutions. Are the core American values of open research and academic freedom at risk as a result?
Join the National Committee on US-China Relations on May 21 at 9:30 a.m. EDT for a virtual program with Mary Gallagher, Margaret Lewis, and Rory Truex, in conversation with Jacques deLisle, as they discuss these issues and what lies ahead in Sino-American academic relations.
This program is held in partnership with the Penn Project on the Future of US-China Relations, sponsored by the University of Pennsylvania's Center for the Study of Contemporary China.
Speakers
Mary E. Gallagher, Amy and Alan Lowenstein Professor of Democracy, Democratization, and Human Rights at the University of Michigan and director of its International Institute, is an expert on Chinese politics, law and society, and labor politics. She is the author or editor of several books and of many articles in academic and non-academic publications, including the Washington Post, The New York Times, Comparative Political Studies, and World Politics. Dr. Gallagher is a board director of the National Committee on U.S.-China Relations and a Public Intellectuals Fellow.
Margaret K. Lewis is a professor of law at Seton Hall University. Her research focuses on law in China and Taiwan with an emphasis on criminal justice. Professor Lewis has been a Fulbright senior scholar at National Taiwan University, a visiting professor at Academia Sinica, a member of the Council on Foreign Relations, a National Committee on U.S.-China Relations Public Intellectuals Program fellow, and a delegate to the US-Japan Foundation's US-Japan Leadership Program. She is spending the 2020-21 academic year in Taiwan as a visiting scholar at the Judge's Academy and a visiting professor at Academia Sinica.
Rory Truex is an assistant professor of politics and international affairs at Princeton University. His research focuses on Chinese politics and authoritarian systems. His work has been published in top scholarly journals, including the American Political Science Review, Comparative Political Studies, and The China Quarterly, and featured in the Wall Street Journal and The New York Times. He is the founder of the Princeton in Asia Summer of Service program, which annually sends Princeton undergraduates to rural China to run an English immersion program for local students. Professor Truex is a fellow of the National Committee's Public Intellectuals Program.
Moderator
Jacques deLisle is Stephen A. Cozen Professor of Law, professor of political science, director of the Center for the Study of Contemporary China, co-leader of the Penn Project on the Future of U.S.-China Relations at the University of Pennsylvania, and director of the Asia Program at the Foreign Policy Research Institute. He writes on China's engagement with the international order and international law; U.S.-China relations; domestic legal-institutional change in China, Taiwan and cross-Strait relations; and Hong Kong. Professor deLisle is the co-editor of, and contributor to, numerous books including, most recently, After Engagement: Dilemmas in U.S.-China Security Relations (2021), Taiwan in the Era of Tsai Ing-wen (2021), and To Get Rich is Glorious: Challenges Facing China's Economic Reform and Opening at Forty (2019).