Chinese Antitrust Exceptionalism: How the Rise of China Will Challenge Global Regulation
Angela Zhang, Associate Professor of Law, The University of Hong Kong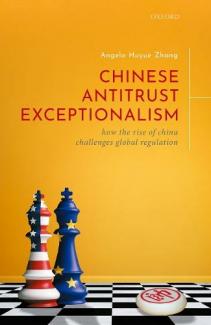 Please register to receive Zoom info:  https://www.eventbrite.com/e/chinese-antitrust-exceptionalism-tickets-149640058443
Professor Angela Zhang discusses her new book Chinese Antitrust Exceptionalism: How the Rise of China Will Challenge Global Regulation. The book analyzes Chinese antitrust law in the broader context of China's developing global economic presence and examines how Chinese exceptionalism—as manifested in the way China regulates and is regulated, is reshaping global antitrust regulation. 
Professor Angela Zhang is the Director of the University of Hong Kong's  Centre for Chinese Law, which promotes legal scholarship with the aim to develop a deeper understanding of China and facilitate dialogue between East and West. Before joining the University of Hong Kong, Angela taught at King's College London and practiced law for six years in the United States, Europe, and Asia.  She previously worked as a bankruptcy lawyer at Debevoise & Plimpton in New York and as an antitrust attorney at Cleary Gottlieb Steen & Hamilton in Brussels. Angela was admitted to the New York Bar in 2009.  
Angela received her LLB from Peking University, and her LLM, JD and JSD from the University of Chicago Law School. She wrote her doctoral dissertation under the supervision of Judge Richard A. Posner.