China's Western Horizon: Beijing and the New Geopolitics of Eurasia
Daniel Markey,  Senior Research Professor, School of Advanced International Studies, Johns Hopkins University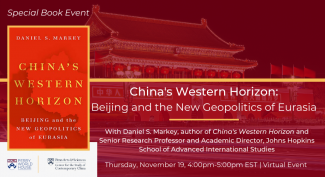 Please register at: https://www.eventbrite.com/e/chinas-western-horizon-beijing-and-the-new-geopolitics-of-eurasia-tickets-128636716883
What are China's ambitions in Eurasia? Even amidst the COVID-19 pandemic, the leadership of the Chinese Communist Party has made it clear that it wants to dominate the continent's future. China's new "Health Silk Road," its provision of personal protective equipment to other Eurasian nations, and its COVID vaccine trials in countries like Pakistan are only the latest additions to a vast economic and political project that is transforming the region with new deep water ports, expanded railway networks, and high-speed digital infrastructure.
As grand as China's visions may be, however, they will need to contend with the on-the-ground realities in South Asia, Central Asia, and the Middle East. Complex local histories, long-running rivalries, and other factors in these regions will complicate any master plan and are the key to understanding the future of Chinese foreign policy. How does China think about the linkages of continental Eurasia? How effective has the Chinese Communist Party been at understanding the complexity of South Asia and managing India-Pakistan dynamics? And how does China's "Western horizon" in Eurasia affect the future of U.S.-China competition?
Join Perry World House for this virtual event to hear answers to these and other questions with Daniel Markey, a senior research professor at Johns Hopkins University School of Advanced International Studies (SAIS), former South Asia expert for the State Department's Policy Planning staff, and author of China's Western Horizon: Beijing and the New Geopolitics of Eurasia.
Daniel Markey is a senior research professor at Johns Hopkins University's School of Advanced International Studies (SAIS). He also serves as the academic director of the Johns Hopkins SAIS Global Policy Program. He teaches courses in international politics and policy. Dr. Markey's latest book, China's Western Horizon: Beijing and the New Geopolitics of Eurasia, was published by Oxford University Press in March 2020. It assesses the evolving political, economic, and security links between China and its western neighbors, including Pakistan, India, Kazakhstan, Russia, Saudi Arabia, and Iran. It explains what these changes are likely to mean for the United States and recommends steps that Washington should take in response. From 2007-2015, Daniel Markey was a senior fellow for India, Pakistan, and South Asia at the Council on Foreign Relations. While there, he wrote a book on the future of the US-Pakistan relationship No Exit from Pakistan: America's Tortured Relationship with Islamabad (Cambridge University Press, 2013). From 2003 to 2007, Dr. Markey held the South Asia portfolio on the Secretary's Policy Planning Staff at the U.S. Department of State. Prior to government service, he taught in the Department of Politics at Princeton University. At Princeton, he also served as executive director of Princeton's Research Program in International Security. Earlier, he was a postdoctoral fellow at Harvard's Olin Institute for Strategic Studies. Dr. Markey is the author of numerous reports, articles, book chapters, and opinion pieces. His commentary has been featured widely in U.S. and international media.
Co-sponsored by Perry World House