China, Hong Kong and Taiwan: Reflections on a Reporting Trip
Trudy Rubin, Worldview Columnist, The Philadelphia Inquirer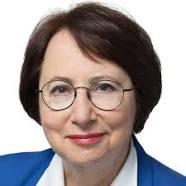 Please join Trudy Rubin for a discussion on her recent reporting trip to China. 
Trudy Rubin, Worldview columnist for The Philadelphia Inquirer, has been awarded the Flora Lewis award for commentary from the Overseas Press Club. Rubin, who joined The Inquirer in 1983, has special expertise on the Middle East and travels abroad frequently. In recent years, she has reported from Iraq, Syria, Egypt, Tunisia, Jordan, Israel, the West Bank, Lebanon, Turkey, Afghanistan, Pakistan, Russia, China, Hong Kong, and Taiwan as well as from E.U. countries affected by terrorism and refugee flows.
In 2017 and 2001, Rubin was a finalist for the Pulitzer Prize in commentary. In 2010, she received the Arthur Ross award for international commentary from the American Academy of Diplomacy. In 2008, she won the Edward Weintal prize for international reporting.