Subnational Hydropolitics: Conflict, Cooperation, and Institution-Building in Shared River Basins
Scott Moore, Ph.D., Director, Penn Global China Program, University of Pennsylvania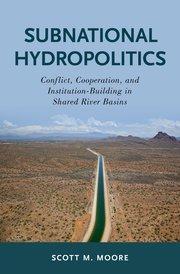 Scott Moore offers the first book-length treatment of the distinctive problem of subnational hydropolitics: why states and provinces, as well as countries, fight over shared water resources.
His research features a new theory of the factors that shape the dynamics of conflict and cooperation over water: decentralization, sectional identity, and political participation. He proposes solutions for how to improve international cooperation in shared river basins and discusses the timely issue of climate change and how it will affect hydropolitics, especially in the Colorado and Yellow River Basins.
Open to all, lunch provided.