East Asia Island Wars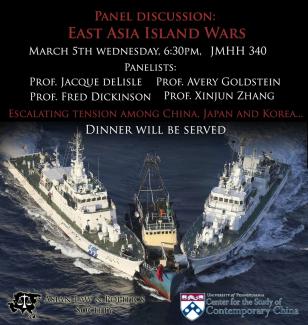 PANELISTS:
Prof. Jacque deLisle, Stephen A. Cozen Professor of Law and Professor of Political Science
Prof. Avery Goldstein, David M. Knott Professor of Global Politics and International Relations
Prof. Fred Dickinson, Professor of Japanese History and co-director of the Lauder Institute of Management and International Studies
Prof. Xinjun Zhang, Professor of School of Law, Tsinghua University
Bounded on the east by islands of Japan, on the west of mainland China, on the north of Korea, on the south of Taiwan, East China Sea has been a heated area that causes the increasing tension among different East Asian countries. Will the territorial dispute on East China Sea lead to further confrontation or even regional war? How does it affect global politics and the interest of United States?
Join our panel discussion to talk about this topic with our distinguished professors!
Dinner will be served. Seats are limited. Reserve to secure your place.

RSVP LINK: http://goo.gl/0Pqpke
For past more information about ALPS and past events , check https://www.facebook.com/upennalps. BE SURE TO LIKE IT FOR FUTURE EVENT UPDATES
* Co-sponsored by Asian Law & Politics Society