CSCC 2nd Annual Conference
New Media, The Internet, and a Changing China
This two-day international conference addresses the dynamic and evolving relationships among China's new media, civil society, public opinion, commerce, international relations and legal system. Twelve leading scholars present in four panels, followed by comments from expert discussants and open Q&A. No registration required, open to all.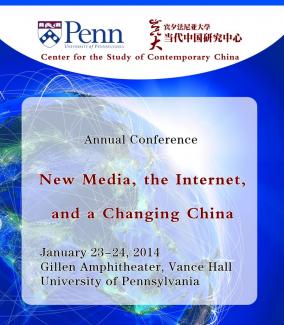 Vance Hall is located at 37th St & Spruce. Please see campus map for directions
                                                        Thursday, January 23, 2014

9:45-10:00am         Opening Remarks
10:00 - 12:00pm     New Media and Civil Society
Min JIANG (UNC-Charlotte )
"The Co-evolution of the Internet, (Un)Civil Society & Authoritarianism in China"
Zengzhi SHI (Peking University)
"New Media Empowerment Perspectives in State and Social Relations"
Marina SVENSSON (Lund University)
"Connectivity, Engagement and Witnessing on Weibo: Understanding New Forms of Civic Engagement and Connective Action in China"
Discussants:
Rebecca MACKINNON (New America Foundation)
Marwan KRAIDY (University of Pennsylvania)
Guobin YANG (University of Pennsylvania)
Moderator:
Emily Hannum (University of Pennsylvania)      
             
12:00 -1:30pm     Lunch Break
1:45-3:45pm        New Media and China's Legal System
Rogier CREEMERS (University of Oxford)
"Privileged Speech and New Media: Conceptualizing Communications Law in China in the Internet Age"
Anne S.Y.CHEUNG (University of Hong Kong)
"The Battle of Microblogging for Legal Justice in China"
Ya-Wen LEI (Harvard University) & Xiaodan Daniel Zhou (University of Michigan)
"Constructing Legality: The Contestation and Valorization of Law in China's Networked Public Sphere"
Discussants:
Amy GADSDEN (University of Pennsylvania)
Sharon HOM (Human Rights in China)
Moderator:
Jacques DELISLE (University of Pennsylvania)
3:45-4:00pm        Coffee Break
4:00-5:00pm       Roundtable on Journalism and US-China Relations Today
Rebecca MACKINNON (New America Foundation)
Trudy RUBIN (Philadelphia Inquirer)
David WERTIME (Foreign Policy)
Moderator:
Guobin Yang (University of Pennsylvania)
                                                          Friday, January 24, 2014

9:00-11:00am    New Media, Public Opinion, and China's International Relations
Peter GRIES (Univ. of Oklahoma)
"Netizen Nationalism, New Media, and China's Japan policy: The Diaoyudao/Senkaku Islands controversy, 2012-2014"
James REILLY (Univ. of Sydney)
"Going Out and Texting Home: New Media and China's Citizens Abroad"
Chuanjie ZHANG (Tsinghua-Carnegie)
"Images of DPRK in China's New Media: How Foreign Policy Attitudes Are Connected to Domestic Ideologies in China"
Discussants:
Jessica  WEISS (Yale University)
Yuhua WANG (University of Pennsylvania)
Moderator:
Avery Goldstein (University of Pennsylvania)
11:00-11:15am        Coffee Break

11:15-12:00pm        Publication Planning Session (for paper authors and discussants)
12:00-1:30pm          Lunch Break
1:45-4:00pm    Business and New Media in China
Yan XUAN (CEO of Nielsen Greater China)                                                                                                                        "Red Hot Chinese Social Media - landscape, opportunities, challenges and how to plan"
Yubo CHEN (Tsinghua University)
"Chinese Markets in the Social Media Era"
Ajit SIVADASAN (VP/GM, Global Sales and Marketing, Lenovo)                                                                                        "In God We Trust, All Others Must Have Data!"
Discussants: 
David REIBSTEIN (Wharton, University of Pennsylvania)
Jerry WIND (Wharton, University of Pennsylvania)
Moderator:
John ZHANG (Wharton, University of Pennsylvania)