The Course of US-China Relations: Its Evolution and Prospects
2012-2013 CSCC Annual Public Lecture
Governor Jon M. Huntsman Jr., former US Ambassador to China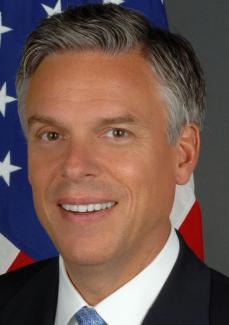 Governor Jon Huntsman, former US Ambassador to China with many years of public service and experience in Asia, shares his thoughts about the course of US-China relations and the influences that are shaping its evolution.
Governor Jon M. Huntsman, Jr. began his career in public service as a staff assistant to President Ronald Reagan. He has since served four U.S. Presidents in critical roles around the world including Ambassador to Singapore, Deputy Assistant Secretary of Commerce for Asia, U.S. Trade Ambassador and most recently U.S. Ambassador to China.
Twice elected as Utah's Governor, Jon Huntsman brought about strong economic reforms, tripled the state's rainy day fund and helped bring unemployment rates to historic lows. During his tenure Utah was named the best managed state in America and best state in which to do business.
Recognized by others for his service, Governor Huntsman was elected as Chairman of the Western Governors Association, serving nineteen states throughout the region.
Governor Huntsman most recently ran as a candidate for the Republican Presidential nomination until leaving the race in January 2012.
He currently serves on the board of Ford Motor Company, Caterpillar Corporation, Huntsman Corporation, The U.S. Naval Academy Foundation and The University of Pennsylvania. In addition he serves as a distinguished fellow at the Brookings Institute, a trustee of the Carnegie Endowment for International Peace, a Trustee of the Reagan Presidential Foundation and as Chairman of The Huntsman Cancer Foundation.
He is a graduate of The University of Pennsylvania and has seven honorary doctorate degrees.