The Ongoing Quest for Judicial Independence in Contemporary China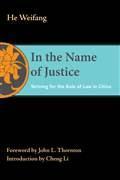 Penn's Center for the Study of Contemporary China is pleased to have the opportunity to host a talk by Professor He Weifang, one of China's most prominent public intellectuals and a frequent commentator in various media outlets, including social media. 
He Weifang (贺卫方)is Professor of Law at Peking University's School of Law and one of China's leading academic advocates of legal reform.  In 2001, China Youth magazine named him one of the top 100 young people who might shape China the 21st Century.  In 2011, Foreign Policy named him to its list of Top 100 Global Thinkers .  
Professor He is a prolific scholar and popular teacher on the subjects of jurisprudence, constitutional law, legal history, and comparative law.  He graduated from Chongqing's Southwest Institute of Politics and Law in 1982-- a member of the first law school class following the Cultural Revolution-- and then received his LL.M from the China University of Politics and Law.  His teaching career began at the China University of Politics.  In 1995, he was hired by Peking University's Law School where he became full professor and Ph.D. supervisor.  From 2009 to 2011, Professor He taught at Shihezi University in Xinjiang.   
Professor He helped establish Comparative Law (比较法研 究), China's first scholarly journal on comparative law, and served as editor-in-chief of the Peking University Law Journal.  He has been a visiting scholar at the Program in East Asian Legal Studies at Harvard Law School and has lectured widely in the United States, Europe, and Japan.  Brookings Institution Press has just published In the Name of Justice: Striving for the Rule of Law in China, a new book containing English translations of He Weifang's recent writings.

Event cosponsored by Penn's Law School, Center for East Asian Studies, the East Asia Law Review, and the Foreign Policy Research Institute.